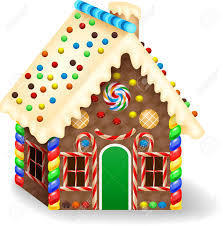 Art News
Karen Nelsen
Saturday, January 18, 2020
We introduced the very first Gingerbread Decorating Contest for the high school art classes – and what a success it was! Students were divided into teams with each creating a gingerbread farm, village, or train. It was quite an experience learning how to put the figures together and then start the decorating. As time went on, the students became more and more creative with their decorating.
Marshmallows, peppermint sticks, candy canes, sprinkles, coconut, trees, and pine cones were added. Some groups outlined and planned a complete village with a pond, snowman, and gingerbread cookies. Two groups joined forces to make a very elaborate setting.
What was impressive was how well the students worked together and how creative they were. Each new additional decoration led to another!
The creations were displayed in the multi-purpose room. The entire staff and student body were given tickets to vote for their favorite. The final tabulation resulted in the winners – Ashley Horn, Chris Jones, and Brittney Woolley.
Next on our "to-do" list is a field trip to Crooked Canes, an art studio in Chino Valley! Stay tuned.